This year's Senior School Production of Little Shop of Horrors took us to Skid Row in the early 1960's, where a struggling local florist shop was on the brink of closing. With the lockdowns we have all experienced over the past two years, at times we have all felt stuck in 'skid row', as so many family businesses struggled to stay afloat or were forced to shut down. Theatre really does know how to capture the essence of the times both past and present.
This cult classic set the gruesome premise of a plant feeding on human blood, but in a delightfully satirical way. The outrageous and tongue-in-cheek nature of this show allowed our students to explore their comic potential through farce and satire in true comic style. In this realm, our audience was presented with big picture topics of capitalism, domestic violence and the costs of fame and fortune, all in a digestible (all puns intended) and entertaining way. Our cast cleverly highlighted the pitfalls of greed through Seymour's downfall as his actions unleashed a wave of man-eating plants into the world.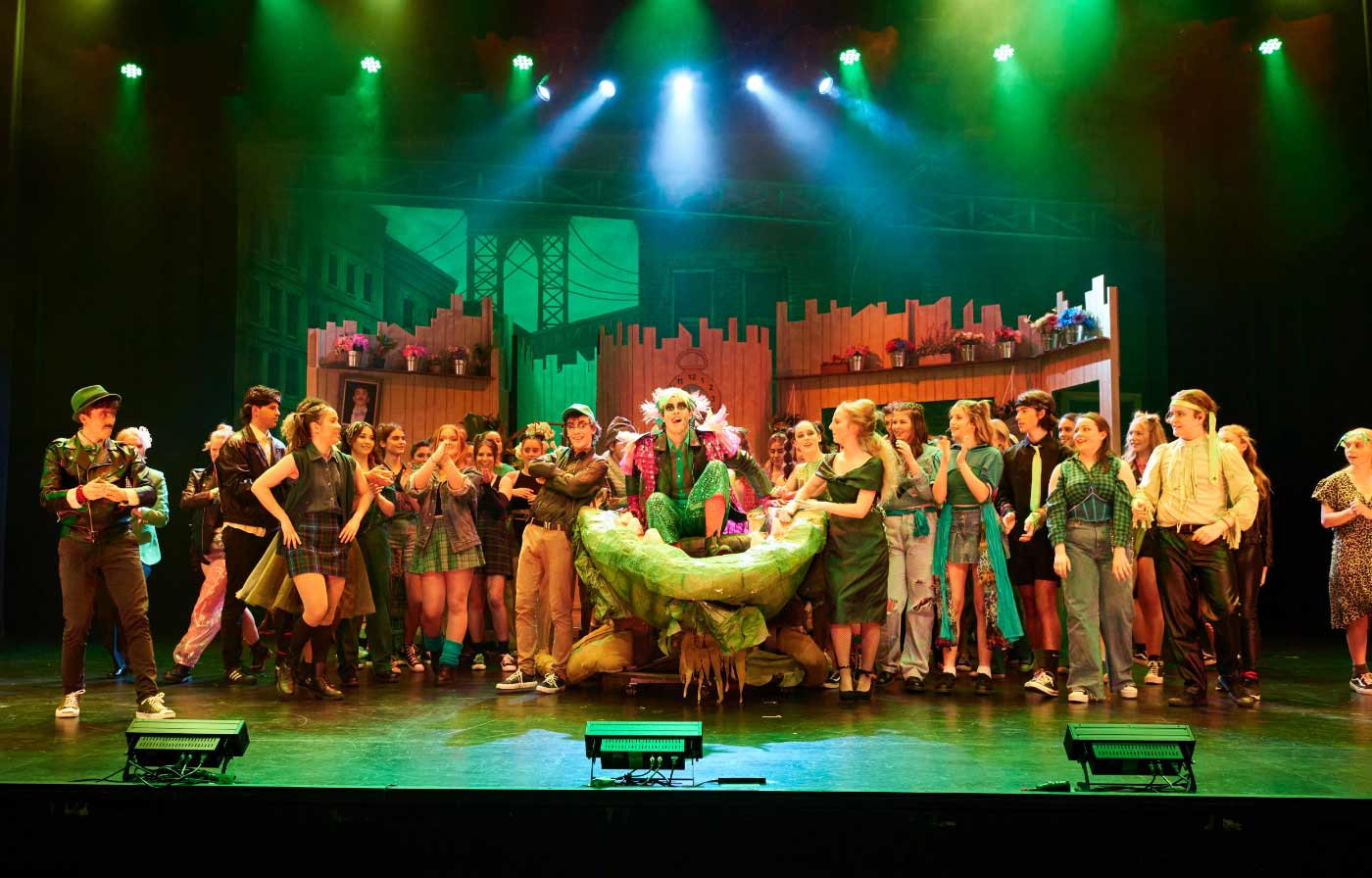 Working with an inspiring fresh new wave of creative minds in my design team of student alumni was a wonderful experience. Costume Designer Sophie Ness' (Class of 2021) comprehensive vision was strategically brought to life with the assistance of student mentee and faithful parent helpers and overseen by the Costume Coordinator Mx Wearne. The alumni choreographers Bella Ness, Sophie Ness and Remi Stock, interpreted the storytelling through movement in a unique way – almost creating poetry in motion. This challenged our performers into exploring lyrical dance and creative non-verbal storytelling. The Production Team worked endlessly to provide the most professional experience for our students and our audiences.
The joy always comes from working with the most dedicated cast and crew made up of Peninsula Grammar students. Their passion for performing and creating, their energy and perseverance, despite illness, exams, and all things that teenagers must juggle in their daily lives, makes everything worthwhile. This year's cast and crew created a uniquely supportive culture of mutual admiration for each other skills and talent, a genuine respect for all our unique differences, and connections that will last a lifetime.